"CYBOWING U" is a men's underwear ergonomically designed to keep your groin area and scrotum cool.
Inspired by men's physiological necessity, CYBOWING U fully meet demands of underwear for male and maintain them fresh and dry, through the advanced ventilation cooling system technology.
Make sure the ventilation holes are on the body side when inserting the blower module into the underwear pouch.

Fill the underwear pouch button.

Wear underwear and pants.

Connect the connector on the blower module to the waistband controller.

Press the power button to activate the blower module.
CONTROLLER INSTRUCTION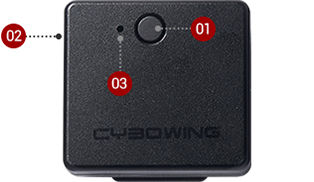 ① POWER BUTTON
Power button and shift position as shown, click the cotroller power button in low speed, medium speed andhigh speed.
After the high gear, press again to open the power button, the blower module closes.
② CHARGING INSTRUCTION
the USB C-type port will be inserted into the USB charging line to charge.
③ LED
When the blower module is working, the LED light green is always on The LED light is red when the battery is charging and turns off when fully charged.
view CYBOWING U